BY KATIE GRIFFIN AND JULIA SWAIN
Tiffany Gal believes the Girls Cross Country team has had a very successful season. Gal is one of the top JV runners on the team. Gal shared her opinion on the reasons that the team has been so successful.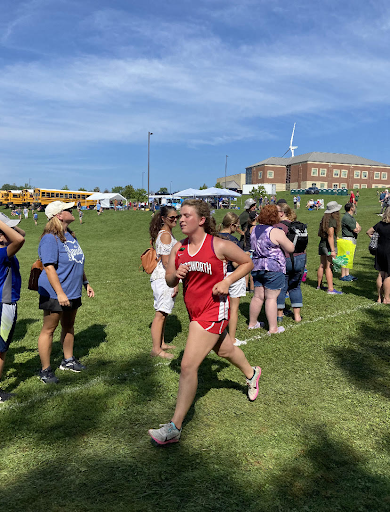 "We had practice every morning over the summer in addition to long runs on Saturdays and lifting on Tuesday and Thursday mornings," said Gal. "A lot of us have been running consistently for several months now."
The team has been working to slowly increase the length of runs and up the pace of workouts throughout the season as well. The coaches are putting in a lot of effort to make sure the girls stay on track.
"[They] have specific running plans that we follow that are in place to help us improve," said Gal. "[They] also encourage us to hydrate, watch our nutrition, and get enough sleep at night."
Gal believes that the team environment is also a big factor in their success.
"Watching teammates reach their goals is inspiring and encourages me to work harder," said Gal. "We have also gotten much closer as a team this season with team bonding activities, team dinners, and warming up and stretching as one big group."
The team is continuing with their daily practice schedule and Saturday meets. The team seems to be on a track that will hopefully help them to reach the state championships.
So far this season, the team has placed highly in most of their races.
At the Frank Gibas Invitational, the varsity team placed 8th, while the JV team placed 6th.
At the Ashland Invitational, the varsity and JV teams competed in the same race, coming out in 3rd place, showing major improvement.
The girls team once again thrived at the Wooster Invitational, placing 4th in the varsity race. Team placements were not given for the JV races.
At the Boardman Invitational, there were three separate races, varsity, JV, and open. In the varsity race, the girls placed 17th, in the JV race, they placed 15th, and in the open race they placed 9th.
At the Malone Invitational, the varsity team picked up their first win of the season, overcoming strong teams in Lake and Stow-Munroe Falls to come out in 1st place. The JV team picked up their highest placement of the season, coming out in 2nd place, just behind Lexington.
The team will travel this Saturday to Medina for the final invitational of the season before the Suburban League Championships.