Alumnus walks on to Ohio State football
BY T.J. LOCKWOOD
Wadsworth alumnus and current Ohio State senior, Nick Seme, has fulfilled his lifelong dream: walking on and officially becoming a part of the 2017 Ohio State University football team.
"It has always been a dream of mine to play for the Buckeyes… I still have a hard time believing that this is all real," said Seme.
The senior defensive lineman was recently placed on the roster after transferring from Ashland University. This has been a dream for Seme, but it has come in an unexpected way.
From multiple serious injuries, having to change positions, and transferring schools, Seme has had a career full of twists and turns. Despite these obstacles, former Wadsworth football coach Greg Dennison, who coached Seme through high school, was not surprised by Seme's walk-on success.
"He wanted to do it, and when Nick sets his mind to something, he is going to find a way to do it," said Dennison.
Seme played for the Wadsworth Grizzlies football team in 2011 and 2012, and contributed in a number of ways. He played many positions, including tight end, defensive end, and linebacker. At Ashland, he played fullback, and now is on the defensive line for the Buckeyes. Dennison said that Seme did a "little bit of everything" for the Grizzlies.
"Guys like him don't come along very often," said Dennison. Although Seme had great success in his high school career, he also had setbacks. Seme suffered an MCL/ACL injury that kept him out for almost all of his senior season, and hurt his recruitment possibilities for college football. He also suffered a shoulder injury after his first game at Ashland University, which required surgery and a long recovery. This forced his main focus to academics rather than football, sparking his interest in Ohio State.
"I wanted to transfer to a larger school and focus more on my academic career. I had no intentions of playing when I got down to Columbus," said Seme.
Although he had these setbacks and a change of focus, he was able to recover and become an even better player through his hardwork and dedication. Dennison also had a lot to say about Seme's work ethic and character, being the paragon of hard work and the rewards that come with it.
"He was always such a gifted hard worker with a great attitude," said Dennison.
Under Coach Dennison, Seme is the only player to continue his football career at Ohio State, which is widely known for their success in college football. Ohio State is often ranked as one of the best college football teams in the nation. Notably, the Buckeyes won the Division I NCAA football national championship in 2015, the fifth win for the program. They also returned to the playoff in 2016.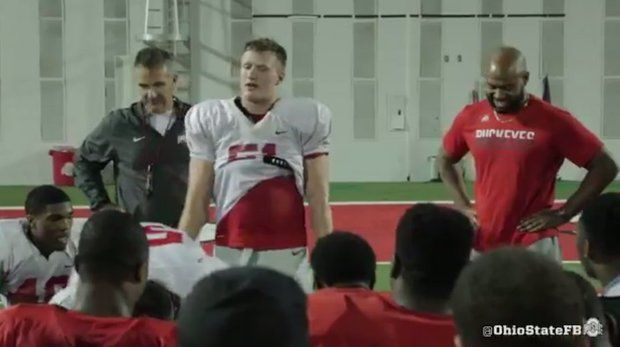 The upcoming team looks to return to the college football playoff and bring back another national championship trophy for the Buckeyes with returning senior quarterback J.T. Barrett leading the way. Last season, the Buckeyes made it to the playoff as the three seed, but were shut out in a 31-0 loss. The team looks to return this season even stronger and ready to compete.
Playing for Ohio State has been an opportunity of a lifetime for Seme that he has always dreamed of and worked toward. Seme is prepared to do anything to help the Buckeyes succeed and get better every day.
"It all came down to working toward and following a dream. If you consistently work hard, you can create amazing opportunities for yourself," said Seme. 
Your donation will support the student journalists of Wadsworth High School. Your contribution will allow us to purchase equipment and cover our annual website hosting costs.