Wadsworth Spanish Teacher Señora Beavers Retires After 23 Years
Mrs. Beavers is retiring from teaching after spending 23 years teaching at Wadsworth. She has taught multiple levels of Spanish, including Spanish Four as a College Credit Plus course.
Before she began to work at Wadsworth, she taught at Woodridge High School for eleven years and was also a part-time substitute teacher at Copley.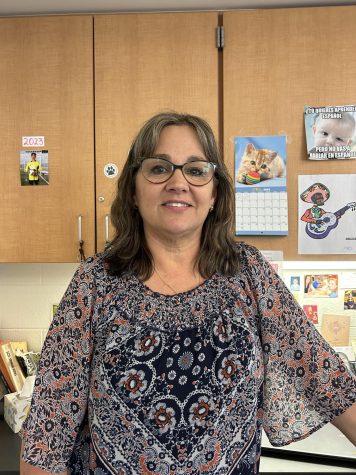 Additionally, she spent time working at Kent State University for a year as a graduate assistant.
Beavers' favorite part about teaching is when students finally understand aspects of Spanish and "get it". Students appreciate her effort to help them understand the class.
"She allows people to work at their own pace, and is considerate if someone doesn't understand the topic we're working on," said Mallory Brooks, a Spanish Two student.
She has also coached Junior Varsity Softball and Volleyball for Wadsworth.
In addition to teaching multiple Spanish classes, she taught Algebra 1 for two years at Wadsworth because she has a minor degree in math. However, Spanish is her favorite subject that she has gotten the opportunity to teach.
She believes that her time spent at Wadsworth has taught her that she still has a lot to learn about teaching and students.
"I can learn so much from the kids about life and about being kind," Beavers said.
Beavers have enjoyed getting the opportunity to take trips to school with the students. She has been to Mexico, Spain, France, and Peru, and has also helped with a three-week exchange with kids living with families in Costa Rica.
"Seeing them use the language, that's the best," Beavers said.
She believes that teaching and spending so much time around high schoolers has helped keep her patient and young.
"Hearing about the lives of the students is really fun–it interests me," Beavers said.
Even after retiring from her teaching career, she says that she would love to work in a coffee shop or a boutique
"I love being around people," Beavers said.
Beavers still want to have the opportunity to travel. She specifically wants to take a trip to see her daughter who is studying in New Orleans.
Beavers are also considering moving to North or South Carolina.
Beavers says that she will miss having coffee every morning with her colleagues Mrs. Matthews, Mr. Shipley, Mr. Vankirk, and Mrs. Kline. However, Beavers thinks that what she will miss the most about teaching at Wadsworth High School is the students, who have expressed that they will miss her as well.
"I'll miss her positive attitude, her reassurance, and the way she involves everyone when we're doing lessons," Brooks said.
Leave a Comment
Your donation will support the student journalists of Wadsworth High School. Your contribution will allow us to purchase equipment and cover our annual website hosting costs.